SocDoc Blog
Happenings in the documentary film world and within the School of Visual Arts MFA in Social Documentary Film Community
MONDAY, MARCH 30TH, 2015
Tribeca '15: "Thank You For Playing" to air on 'POV'
3 days ago by Kevin Ritchie (Real Screen)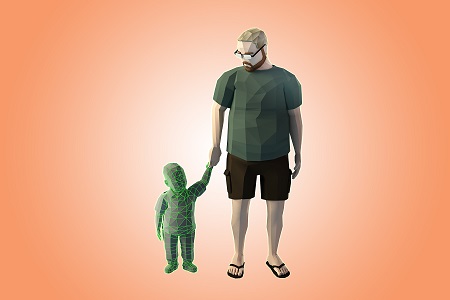 PBS doc strand 'POV' has picked up the U.S. TV rights to Thank You For Playing (pictured) ahead of its world premiere at the Tribeca Film Festival next month.
Directed by David Osit (Building Babel) and Malika Zouhali-Worrall (Call Me Kuchu) and coproduced by ITVS, the film follows indie video game developer Ryan Green as he creates an adventure game called That Dragon, Cancer about his experiences raising his terminally ill son. The directors examine the empathetic power of art, how technology can help in the grieving process and the wider implications of using video games to document human experiences.
Thank You For Playing will debut at the Tribeca Film Festival on April 17 and the filmmakers will participate in a Tribeca Talks panel on April 18 – the same day the game will be available to play at the festival's Interactive Playground. Screening times and locations are listed on the festival's website.
'POV' will air the film during its 2016-2017 season. The doc strand's 28th season kicks off on June 22 with Out In The Night.
Tags: David Osit, Malika Zouhali-Worrall, POV, Thank You For Playing, Tribeca Film Festival, Tribeca Film Festival 2015
Read more: http://realscreen.com/2015/03/27/tribeca-15-thank-you-for-playing-to-air-on-pov/#ixzz3VuaPmV3Q
David Osit is a 2011 graduate of the MFA SocDoc program. 
MONDAY, MARCH 30TH, 2015
SocDoc at The Tribeca Film Festival
Bao Nguyen's (SocDoc '11) filmLive From NY the new Saturday Night Live doc will open the 2015Tribeca Film Festival in April. Alumni Caleb Heller (cinematographer), Ben Nimkin (sound), David Osit (editor), Natalie Ruiz Tofano (production coordinator) played major roles in the production team. Go SocDoc!More information on the film and the festival. 

 For tickets and more info.

Thank You for Playing co-directed and co-written by David Osit (SocDoc '11) and Malika Zouhali-Worrall will be featured in the World Documentary Competition. The film follows Ryan and Amy Green who have been working on That Dragon, Cancer, a videogame about their son Joel's fight against that disease. Following the family through the creation of the game and the day-to-day realities of Joel's treatment, David Osit and Malika Zouhali-Worrall create a moving testament to the joy and heartbreak of raising a terminally ill child.
MONDAY, MARCH 30TH, 2015
Pulitzer Center Film Series at Paley Center: 'The Abominable Crime'
The Abominable Crime, the award-winning documentary on homophobia in Jamaica by director Micah Fink (SocDoc Faculty), kicks off the Pulitzer Center's film series at New York's Paley Center for Media on Tuesday, April 21. Free and open to the public, but RSVP requested—please reserve your seat today. Reception follows screening and panel.
MONDAY, MARCH 30TH, 2015
Age of Love on the Today Show and NPR
The Age of Love directed by Steven Loring ('12) follows the humorous and poignant adventures of thirty seniors in Rochester, NY who sign up for a first-of-its-kind speed dating event exclusively for 70- to 90-year-olds.
The film has been making the festival rounds and has had a ton of community screenings. The film was even featured on the Today Show and NPR's 'All Things Considered.'
WEDNESDAY, MARCH 11TH, 2015
Two alumni have their thesis films in the Rated SR Film Festival next week.
Tuesday 3/17/15
Truth Through a Lens – 92' – USA – (School of Visual Arts Student) – 2014 (World Premiere)
Directed by Justin Thomas
This stunning feature length debut follows the evolution of Dennis Flores from Brooklyn street kid, subway train tagger to local community organizing legend in the backdrop of recent social issues. http://rated.sr/schedule/truth-through-a-lens/
Friday 3/20/15
Love Is the Highest Law – 83' – USA – (School of Visual Arts student) – 2014 –  (New York Premiere)
Directed by Liliya Anisimova
A unique, firsthand look into three powerful stories connected through the strength of overcoming the stringent same-sex laws both in Russia and the United States and of love triumphing over hardship.
Q & A after the screening http://rated.sr/schedule/love-is-the-highest-law/
WEDNESDAY, FEBRUARY 11TH, 2015
National Listening Tour for Independent Films on PBS
Join us in New York City – the next stop on the National Listening Tour for Independent Films on PBS – on February 23rd, from 2 PM ET to 5 PM ET, along with PBS, POV, ITVS, WNET, Independent Lens and the Indie Caucus. The event will take place at the SVA Theatre in Manhattan. RSVP now »
In keeping with its commitment to independent film and filmmakers, PBS leadership is hosting a series of open forums around the country with independent filmmakers, PBS series producers, and other public media and community partners. At each event, participants are invited to voice their priorities and innovative ideas on how all can work together to strengthen distribution, viewership and community engagement through Independent Lens, POV and all kinds of independent films.
Watch highlights from San Francisco, the first stop on the tour last month. The Indie Caucus and Kartemquin Films will host a third stop in Chicago in March, date TBD.
TUESDAY, JANUARY 13TH, 2015
Steven Loring ('12) and Sam Carroll ('12) have films in the 2015 Big Sky Documentary Festival in Missoula Montana this February. The Big Sky Documentary Film Festival has become one of the most well respected documentary festivals in the US and is the largest cinema event in Montana.
Steven Loring will screen his SocDoc thesis film The Age of Love.
Sam Carroll will screen his SocDoc thesis film Bedevil (World Premiere).
More information about this festival.
TUESDAY, JANUARY 13TH, 2015
1/20/15
Michael Levine – The Cruise – editor
1/27/15
Mona Eldaief – Rafel Solar Mama – director
2/3/15
Sam Green – filmmaker
/10/15
Freeway: A Crack in The System – Stranger Than Fiction – at IFC
2/17/15
Lacy Schwartz – Little White Lie – director
2/24/15
Johanna Hamilton – 1971 – director/producer
3/10/15
Bernardo Ruiz – filmmaker
3/17/15
Rebels of a Neon God – Flaherty NYC at Anthology Film Archive
3/24/14
Jesse Moss – The Overnighters – director
3/31/15
Carter Little – Music Supervisor
4/7/15 – TBA
4/14/15
Abigail Disney – Executive Producer
4/21/15 – TBA
4/28/15 – End of Semester Screenings